Why I don't like 3d Virtual Tours
I know that 3D tours for Real Estate have become all the rage with some realtors, and I can see why. It's flashy, techy, a little (ok, a lot) gimmicky on some levels, and a tool that can be used to easily 'wow' your clients with.
The few things I LIKE about the tours, like Matterport, are, assuming they are working perfectly on your device, is that they do offer a way to see every single aspect of the home, and they do provide some entertainment value.
***This can backfire though. I have heard realtors say that seeing every nook of a home has actually KEPT some potential buyers away, before the Realtor gets a chance to try to make the sale, or to tell the story of the home, or to negotiate any flaws the home might have.
After all, and let's be real, realtors what to get buyers face-to face to work their charms and magic.
The more I see of these 3d tours, the more I don't like, which is why I haven't jumped on the wagon.
I prefer video tours, like this one, that offer a true, 4K Cinematic experience.
I asked my wife to do a Matterport tour today (not telling her anything about 3d tours before-hand) and she got quickly annoyed with it. "Too many clicks" and "Too Much Work."
Shortcomings and Flaws with many 3d tours:
On almost all of the tours I've seen, of the photo quality is pretty mediocre at best. Yes, it's HDR, but the processing is often crunchy, contrasty, and not very sharp.
White-balancing is often off quite a bit with a 'yellow' or tungsten cast.
Very difficult for these cameras to expose for a window view (or have someone trained enough to be able to do it).
The cameras are incredibly expensive for the very limited purpose they serve ($3,500 at last check)
3d tours don't give any chance for a realtor to personally tell the 'story' of the house. It's all left to interpretation. Realtors can be IN a video and talk about a property in their own way
Any flaws in the home shown in the 3d tour may turn buyers away before the realtor can negotiate
3d tours take an incredible amount of time to do
I can't figure out how to embed a tour on a website (which is a deal breaker to me, and should be to anyone with a website)
I think that 3d tours can be good in certain circumstances, but for high-end, luxury properties, the photo quality (so far) from what I've seen is pretty negligible.
I am guessing in coming years, the overall quality and experience will improve.
Please compare the quality:
Here's a true, 4K video tour
and here is a link to a Matterport tour I saw recently
https://my.matterport.com/show/?m=cgwFPdyCNEv&utm_source=4
I could not figure out how to 'embed' the Matterport tour into my site. If someone knows how to do this, please share.
Here is a screen grab of one of the Matterport views. It had a very hard time bringing in any view outside the windows.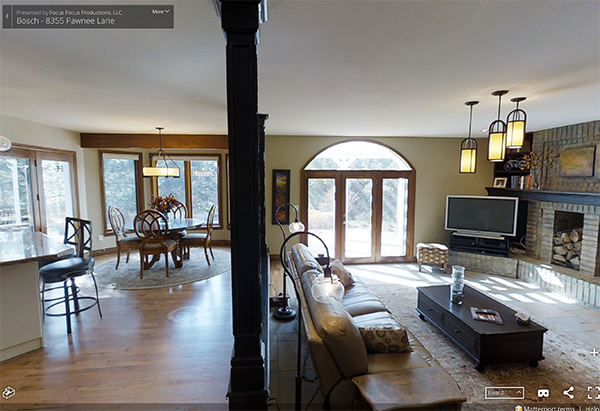 The house in the Matterport tour is nice, but most of the issues I described above are present, and the quality of the images just seems really over-baked and 'crunchy' as I call it.
I'd love to hear any other thoughts about this.
David