Clean, properly lit, 'un-grungy' natural-looking images with accurate colors is my goal!
PLEASE NOTE: I am currently not able to accept new clients for standard real estate photography. If you are Luxury Realtor please contact me.
I am a one-stop shop! I do Photography, Drone (FAA Certified), 360 Degree Tours, Video Tours, Interview Formats, & Commercial spots! Learn How and Why My Photos are Different.
I am an FAA Certified Drone Pilot!
I do 360 Degree Walkthrough Tours
Home Preparation Guide for Sellers
I truly love taking photos and video of interesting buildings, homes and neighborhoods! I do real state photography in Boulder, Boulder County, Denver, Erie, Longmont, Lafayette and beyond, and I also do beautiful HD video walkthrough tours (interior/exterior)!
Don't settle for crunchy, grungy, over-saturated & over-processed HDR!
See more of my Twilight/Dusk shots
See some of my Friday Featured Listings with various realtors and agencies
A Sampling of my Land-Only Videos
Luxury Real Estate Photography Examples
Does your current photographer/videographer:
Make sure photos are properly white/color balanced?
Make sure vertical lines are straight where they should be?
Pull in important window views?
Give you a high-resolution (better than IRES) album that can be shared or embedded into your site, like this one?
Give you high-resolution, print-quality versions for all photos?
Resize photos all properly for IRES?
Do more than just HDR?
Go the extra mile?
Have the ability to work on short notice?
Have a passion for the art of architecture and real estate photography?
Is your current photographer a craftsman or does he/she over-bake the HDR and send you photos with the classic gross, yellow tint, using the same settings for every shot?
Your photos and listings are your Storefront – the place that many people get their first impression of you!
Working with me, you get the same person every time instead of someone different each shoot. I can learn your specific tastes (each realtor is different)!
Recent Interior/Exterior HD Video Examples:
6590 Lakeview Dr, Boulder – by Meghan Bach from David Besnette on Vimeo.
531 Hawthorn, Boulder – by Meghan Bach from David Besnette on Vimeo.
The video above is a 'lifestyle' video I did for a home in Boulder.
1124 Main Street – by Brett Sawyer Real Estate from David Besnette on Vimeo.
This one (above) has a spoken realtor intro.
You can set the resolution to 4k on these videos to see the highest quality!
Behind the scenes photos from the above video including 'gear'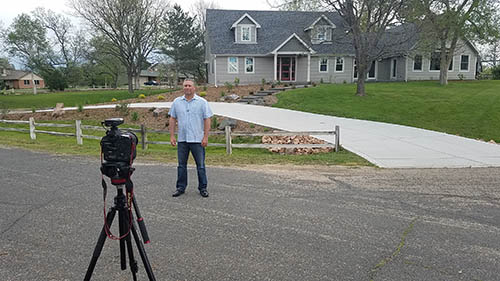 See more 'Behind the Scenes" Photos!
What else can I do?
Interior video tours with HD video
Video tours, testimonials and interviews
Website help/development
Photos are delivered to you in both high-resolution (for print) and also sized for IRES/Zillow (4:3 / 96dpi / 2048×1536) via dropbox. You also get a flickr album and link of your photo album.
If you need someone dependable for your real estate/architecture photos, I'd love to hear from you.
See the equipment I use.
Why I don't use (yet) and don't like 3d virtual tours (like Matterport)
More Real Estate and Architectural Photos (gallery):
NextGEN Gallery
Edit
Delete
What will you get?
All photos uploaded to a flickr album, where you can access the photo in it's original, 240 dpi print-friendly size. This album is much higher quality than IRES (which tends to degrade photos a little when they process them for the web). You can easily send the album link to clients, and potential buyers.
I upload each photo do a dropbox folder for you in a 4:3 ratio, 96dpi for you to add to IRES, Zillow, and the other sites.
Enthusiastic and dependable service!
Turnaround time is generally within 24 hours.
Related Posts